Maybe you've heard the buzz about Delta 8 Gummies, but you're not sure what makes them so unique. To begin with, there's the potency of edible Delta 8 products, as this cannabinoid provides unique effects when ingested through an edible product like a gummy. Then there are the physical and mental benefits that Delta 8 edibles provide to adult users. Many fans of Delta 8 THC Gummies report that complete relaxation becomes simple and quick after eating even just one-half to one full gummy, with profound impacts on the mind and body.
However, to ensure your safety and provide peace of mind that you are enjoying a trusted, reliable product, it's important to buy Delta 8 gummies from an industry-leading company like Mystic Labs™. Our Delta 8 THC Gummies feature 25mg of max strength Delta 8 THC per edible and are made with premium Delta 8 extracted from American-grown Hemp to deliver you total mind and body relaxation. We formulate and manufacture our gummies in-house to provide you the best-tasting and highest-quality Delta 8 THC Gummies available, and back our own thorough, multistage lab testing with reports from independent third party labs. In short, if you're looking for the most safe, potent and great-tasting Delta 8 gummies available, you've come to the right place - Mystic Labs.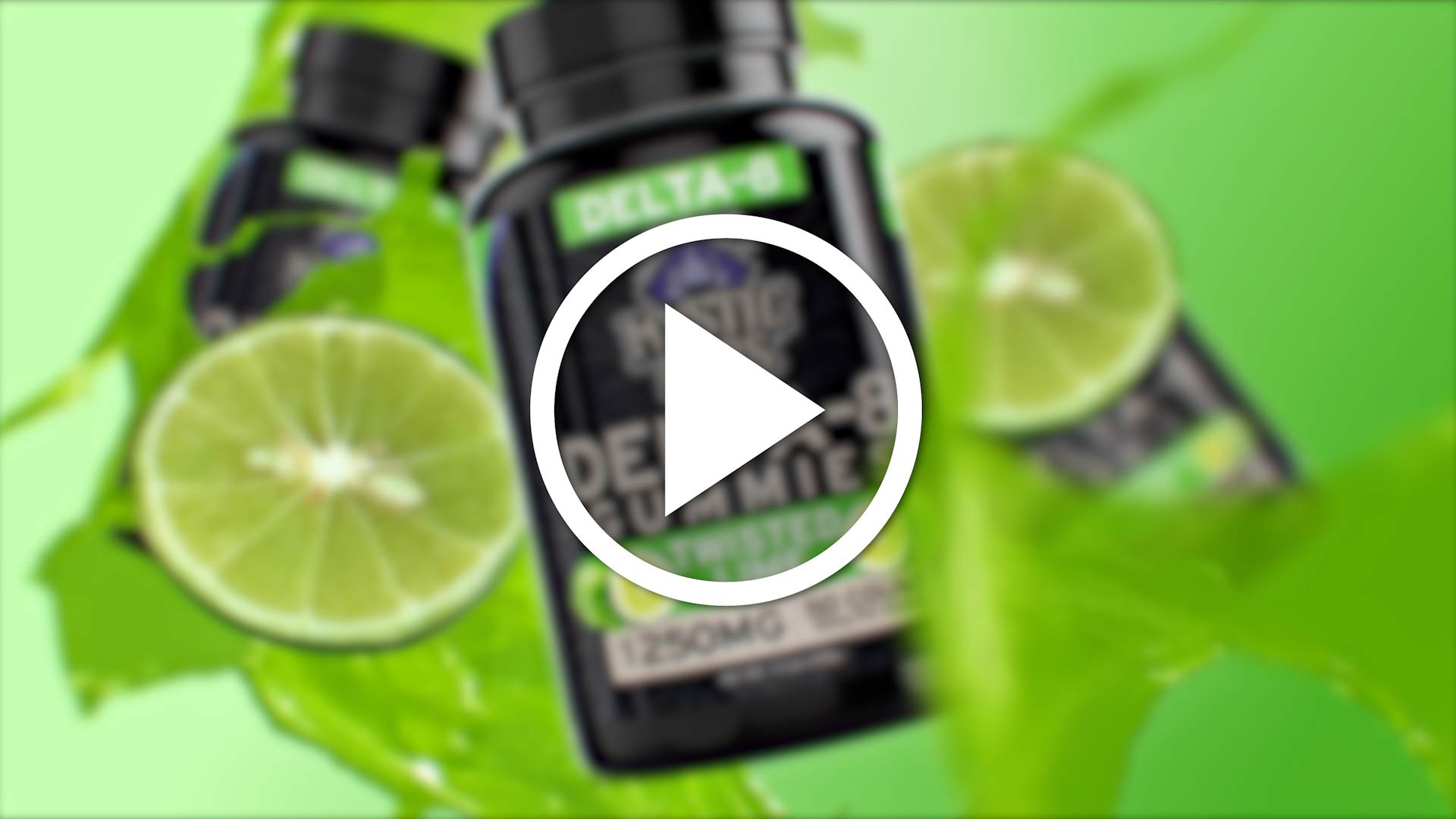 Delta 8 Gummies FAQ
What are Delta 8 Gummies?
Mystic Labs Delta 8 Gummies are bite-sized chews infused with max strength Delta 8 extracted from American-grown Hemp plants. Delta 8 is one of many naturally occurring compounds found in both the Hemp and Cannabis plant known as cannabinoids. Each tasty gummy holds 25mg of Delta 8 to fully relax the body and mind. Click here to learn more: What is Delta 8?
Are Delta 8 Gummies safe?
Yes, Mystic Labs Delta 8 Gummies can be safely consumed by adults over the age of 21. Our Delta 8 THC Gummies are handcrafted in-house by a team of skilled formulators and experienced manufacturing experts, giving you complete confidence in our products. To ensure that all of our Delta 8 edibles are safe, consistent, and potent, we oversee the entire production process in-house from start to finish.
How many Delta 8 Gummies should you eat?
One-half or one entire Delta 8 Gummy is the recommended starting serving size. If this is your first time trying a Delta 8 product, we recommend starting with a smaller serving amount to get a feel for how the compound works and to avoid a potentially unpleasant experience. You can then increase from there as you get comfortable with Delta 8's effects. Not sure which gummy variety is right for you? Try one of our Delta 8 Bundles to get multiple products for a discounted price! You can also click here to learn more about the effects of Delta 8 Gummies: How long do Delta 8 edibles last?
What are the benefits of Delta 8 Gummies?
To deliver a greater sense of relaxation and comfort, Mystic Labs Delta 8 Gummies include 25mg of pure Industrial-Hemp-derived Delta 8 THC in each gummy. Many users find our Delta 8 THC Gummies provide mild euphoric effects perfect for relaxing after a hard day at work or for drifting off into a relaxing slumber each night without the side effects of many sleep aids. Click here to learn more: What does Delta 8 THC do?
Are Delta 8 Gummies federally legal?
Yes, Mystic Labs Delta 8 Gummies are federally legal for you to buy and use. Our gummies use Delta 8 extracted from Hemp and are tested in-house as well as third party lab tested to ensure they contain the stated amount of Delta 8 and less than 0.3% Delta 9 THC – the federal legal limit for Delta 8 products as set by the 2018 Farm Bill. You must be 21 years or older to purchase and use Mystic Labs Delta 8 THC Gummies. Read our blog posts to learn more:
How long does Delta 8 stay in your urine?
Can you fly with Delta 8 Gummies?
Yes, because Delta 8 gummies are federally legal, you can take them on your next flight with you to help you chill out and relax before takeoff.
How long does it take for Delta 8 Gummies to work?
Generally, our Delta 8 THC Gummies may take between 30 minutes to an hour to experience the full effects. Delta 8 affects everyone at a different rate, so kick back, relax and wait to experience the all-encompassing benefits the compound offers.
Where are Mystic Labs Delta 8 Gummies made?
All Mystic Labs cannabis products - including our Delta 8 Gummies, High Potency Delta 8 Gummies, Delta 8 Gummies for Sleep, Delta 9 Gummies, Delta 10 Gummies, HHC Gummies and more - are formulated, manufactured and packaged at our on-site facilities located in Tampa, Florida, USA. We give you the utmost confidence in our Delta 8 THC Gummies by overseeing the entire production process from extraction to shipping. No other company can match the quality, reliability and safety standards of our Delta 8, Delta 9, Delta 10 and HHC products.